Whether you're expecting your first child or expanding your family, welcoming a new baby into the world is one of the most beautiful, significant moments of your life. At Southeast Georgia Health System, our maternity team provides the expert care, personal touch, and fantastic patient experience you deserve during this special time.
Here are some of the reasons you can feel confident in choosing to have your baby at one of our maternity care centers.
Personalized care from an experienced maternity team
Our staff includes board-certified obstetricians, midwives, lactation specialists and nurses who are specially trained in obstetrics and can help with even high-risk pregnancies. Our providers can give you prenatal care, deliver your baby and care for you after delivery.
Every member of our team is focused on giving you and your family the best-possible birth experience. That's why we take the time to understand and do our best to honor the preferences written in your birth plan while ensuring the safety of you and your baby.
Cozy birth centers
We've created a warm and soothing environment at our maternity care centers where every mom has a private, comfortable birthing suite. We recommend that you take a tour of the maternity care center where you plan to deliver two to eight weeks before your due date.
Learn more about the birth experience in our maternity care centers.
Newborn nursery
We have a level II nursery at our Miriam & Hugh Nunnally Maternity Care Center in Brunswick for babies who arrive as early as 32 weeks and newborns who need special care. We have a level I nursery on our Camden Campus.
Pregnancy classes and education
To help you get ready for your baby's arrival, we provide a variety of helpful information and resources, including:
"Great Expectations," a booklet that will help prepare you for childbirth and after your baby is born
Prenatal education to help ensure a healthy pregnancy
Nurses who will answer your questions and teach you what you need to know before you bring your baby home
Preventing infant falls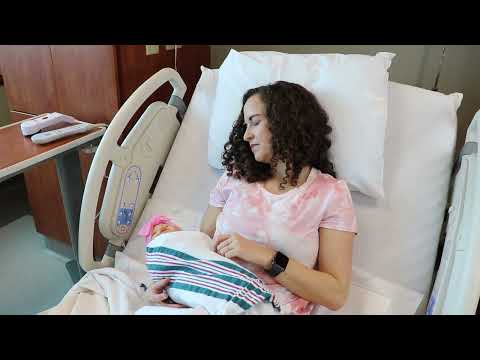 Baby-Friendly designation
Our Brunswick Campus received the prestigious international recognition of a Baby-Friendly hospital. This designation from Baby-Friendly USA, Inc., recognizes hospitals and birthing centers that offer an optimal level of care for breastfeeding mothers and their babies.
We support all moms regardless of their feeding choices.
Learn more about our maternity services
For more information about our maternity care centers, please call:
Miriam & Hugh Nunnally Maternity Care Center (Brunswick): 912-466-4100
Maternity Care Center - Camden Campus (St. Marys): 912-576-6255