You don't have to travel far to find a radiation oncology expert to treat your cancer. If you want quality care close to your home and family, our radiation oncologists would be honored to care for you.
Our team approach to radiation therapy
Our board-certified radiation oncologists work closely with medical oncologists and a multi-disciplinary team of specialists on our tumor board to offer you the most effective and comprehensive treatment plan with the least amount of side effects.
In addition to our oncologists, our radiation team consists of medical physicists and dosimetrists who assist in treatment planning, nurses and nurse practitioners to take care of your medical needs, and an experienced team of radiation therapists who aid in the daily delivery of radiation treatments.
Dr. Meadows' radiation webinar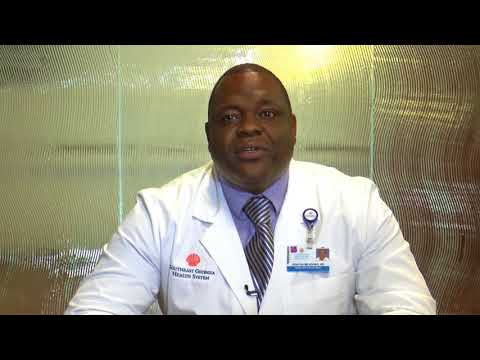 Our radiation treatments
We offer a wide array of radiation therapy options at our Cancer Care Centers:
Accelerated partial breast irradiation (APBI): Offered on our Brunswick Campus, ABPI offers a shortened course of treatment to breast cancer patients meeting specific eligibility criteria after a lumpectomy. In this type of treatment, our radiation is aimed at the lumpectomy site with a small margin, and we are able to spare the remainder of normal breast tissue, the heart and lungs. This allows for a shorter duration of treatment with even fewer side effects than a traditional course of treatment. (Other types of breast radiation can take anywhere from 3 to 6 weeks.)
Brachytherapy: We offer brachytherapy at our Brunswick Campus to treat cancer from inside the body. (Other treatments direct radiation at the tumor from outside the body.) During brachytherapy, radiation implants are inserted near or in a tumor. This type of treatment is most commonly used in the treatment of cervical and endometrial cancers.
CyberKnife: This advanced cancer treatment at our Brunswick Campus delivers high doses of radiation to numerous tumor types, both malignant (cancerous) and benign (noncancerous) with pinpoint accuracy. CyberKnife spares healthy tissue and produces lasting results without the need for surgery, incisions or long recovery time.
Image-guided radiation therapy (IGRT): IGRT, such as the Varian On-Board Imager, uses imaging to help guide precise radiation treatments. It allows your doctor to map the tumor's exact location at the time of treatment and make very fine adjustments to your position. This greatly increases the precision of your treatment.
Intensity-modulated radiation therapy (IMRT): IMRT is one of the most advanced external beam radiation treatments available. It lets our doctors customize the radiation dose by varying the amount of radiation given to different parts of the treatment area. This allows the team to spare your healthy tissues from radiation and reduce unwanted side effects.
Electron beam therapy (EBT): Electron beams can't travel very far through the body. This makes EBT a great choice for treating skin cancer. Radiation is delivered to the cancer on the skin but very little penetrates to deeper tissues.
Xofigo® injections: In this treatment, a drug that contains a radioactive element is injected intravenously. The medication targets the bones, where it gives off radiation. This may be a treatment option for certain men with prostate cancer that has spread to the bone.